My Top 10 Books on Identity and Feminism
There's nothing like a good book that changes your life for the better. Here are 10 books that has influenced my views and have shed some light for me as a Hmong-American feminist living my authentic life.
"Whenever you read a good book, somewhere in the world a door opens to allow in more light." –Vera Nazarian
Click below to view and read more on my recommended book list.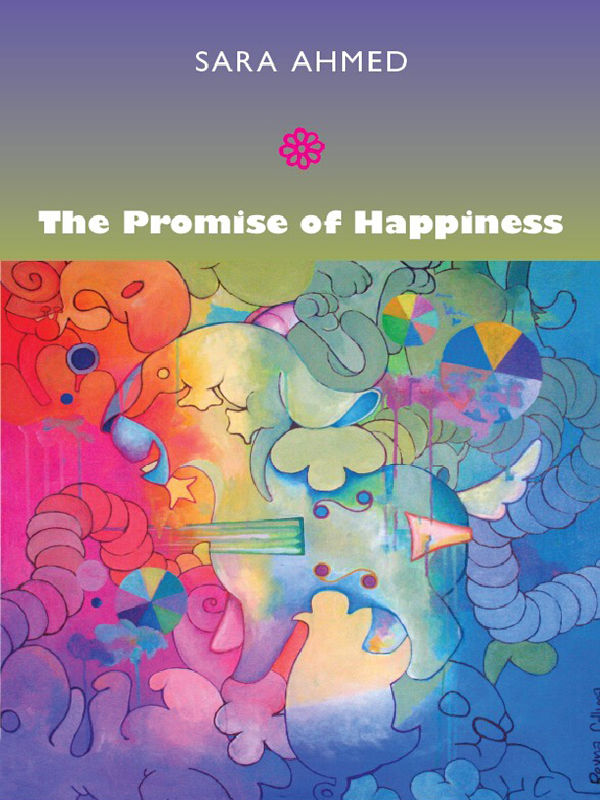 The Promise of Happiness is a provocative cultural critique of the imperative to be happy. It asks what follows when we make our desires and even our own happiness conditional on the happiness of others: "I just want you to be happy"; "I'm happy if you're happy." Combining philosophy and feminist cultural studies, Sara Ahmed reveals the affective and moral work performed by the "happiness duty," the expectation that we will be made happy by taking part in that which is deemed good, and that by being happy ourselves, we will make others happy. Ahmed maintains that happiness is a promise that directs us toward certain life choices and away from others. Happiness is promised to those willing to live their lives in the right way.
Ahmed draws on the intellectual history of happiness, from classical accounts of ethics as the good life, through seventeenth-century writings on affect and the passions, eighteenth-century debates on virtue and education, and nineteenth-century utilitarianism. She engages with feminist, antiracist, and queer critics who have shown how happiness is used to justify social oppression, and how challenging oppression causes unhappiness. Reading novels and films including Mrs. Dalloway, The Well of Loneliness, Bend It Like Beckham, and Children of Men, Ahmed considers the plight of the figures who challenge and are challenged by the attribution of happiness to particular objects or social ideals: the feminist killjoy, the unhappy queer, the angry black woman, and the melancholic migrant. Through her readings she raises critical questions about the moral order imposed by the injunction to be happy.
In spite of the double burden of racial and gender discrimination, African-American women have developed a rich intellectual tradition that is not widely known. In Black Feminist Thought, originally published in 1990, Patricia Hill Collins set out to explore the words and ideas of Black feminist intellectuals and writers, both within the academy and without. Here Collins provides an interpretive framework for the work of such prominent Black feminist thinkers as Angela Davis, bell hooks, Alice Walker, and Audre Lorde. Drawing from fiction, poetry, music and oral history, the result is a superbly crafted and revolutionary book that provided the first synthetic overview of Black feminist thought and its canon.
Bringing together classic and new writings of the trailblazing feminist theorist Chandra Talpade Mohanty, Feminism without Borders addresses some of the most pressing and complex issues facing contemporary feminism. Forging vital links between daily life and collective action and between theory and pedagogy, Mohanty has been at the vanguard of Third World and international feminist thought and activism for nearly two decades. This collection highlights the concerns running throughout her pioneering work: the politics of difference and solidarity, decolonizing and democratizing feminist practice, the crossing of borders, and the relation of feminist knowledge and scholarship to organizing and social movements. Mohanty offers here a sustained critique of globalization and urges a reorientation of transnational feminist practice toward anticapitalist struggles.
Feminism without Borders opens with Mohanty's influential critique of western feminism ("Under Western Eyes") and closes with a reconsideration of that piece based on her latest thinking regarding the ways that gender matters in the racial, class, and national formations of globalization. In between these essays, Mohanty meditates on the lives of women workers at different ends of the global assembly line (in India, the United Kingdom, and the United States); feminist writing on experience, identity, and community; dominant conceptions of multiculturalism and citizenship; and the corporatization of the North American academy. She considers the evolution of interdisciplinary programs like Women's Studies and Race and Ethnic Studies; pedagogies of accommodation and dissent; and transnational women's movements for grassroots ecological solutions and consumer, health, and reproductive rights. Mohanty's probing and provocative analyses of key concepts in feminist thought—"home," "sisterhood," "experience," "community"—lead the way toward a feminism without borders, a feminism fully engaged with the realities of a transnational world.
The concept of intersectionality has become a hot topic in academic and activist circles alike. But what exactly does it mean, and why has it emerged as such a vital lens through which to explore how social inequalities of race, class, gender, sexuality, age, ability and ethnicity shape one another?
In this new book Patricia Hill Collins and Sirma Bilge provide a much-needed, introduction to the field of intersectional knowledge and praxis. They analyze the emergence, growth and contours of the concept and show how intersectional frameworks speak to topics as diverse as human rights, neoliberalism, identity politics, immigration, hip hop, global social protest, diversity, digital media, Black feminism in Brazil, violence and World Cup soccer. Accessibly written and drawing on a plethora of lively examples to illustrate its arguments, the book highlights intersectionality's potential for understanding inequality and bringing about social justice oriented change.
Intersectionality will be an invaluable resource for anyone grappling with the main ideas, debates and new directions in this field.
Welcome to the world of the modern Asian American woman, where the willingness to cause "trouble" -- to stir the waters, think deeply, and go against what is expected -- is the first of many steps to self-discovery and power. Now, Phoebe Eng shatters stereotypes and offers a bold new vision for American-raised daughters like herself.
A second-generation eldest daughter, caught between cultures, codes of behavior, and colliding worlds, Eng had to learn that in order to be true to herself, conflict and tough choices were necessary. But with those, she found, came a wonderful payoff: the doors to opportunity flew open.
Serving as both guide and mentor, Eng addresses the range of issues Asian American women face, including:
How can we deal with family expectations?
What is "false power" and how do we recognize it in our lives?
Can we trust one another?
How do we build healthy relationships in the face of "geisha girl" stereotypes?
How can we find a sense of "home"?

Warrior Lessons signifies a generation and goes far beyond the limiting portrayal of what Eng calls "The Good Little Model Minority Girl." At last, here is a manual for today's woman warrior as she channels her rage and cultivates her power.
Renowned visionary and theorist bell hooks began her exploration of the meaning of love in American culture with the critically acclaimed All About Love: New Visions. She continued her national dialogue with the bestselling Salvation: Black People and Love. Now hooks culminates her triumphant trilogy of love with Communion: The Female Search for Love.
Intimate, revealing, provocative, Communion challenges every female to courageously claim the search for love as the heroic journey we must all choose to be truly free. In her trademark commanding and lucid language, hooks explores the ways ideas about women and love were changed by feminist movement, by women's full participation in the workforce, and by the culture of self-help.
Communion is the heart-to-heart talk every woman -- mother, daughter, friend, and lover.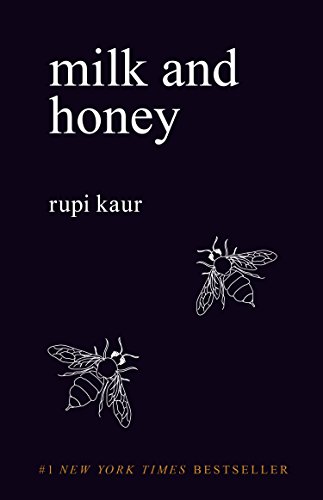 The book is divided into four chapters, and each chapter serves a different purpose. Deals with a different pain. Heals a different heartache. Milk and Honey takes readers through a journey of the most bitter moments in life and finds sweetness in them because there is sweetness everywhere if you are just willing to look.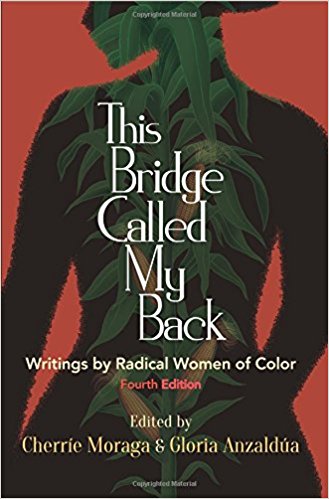 Originally released in 1981, This Bridge Called My Back is a testimony to women of color feminism as it emerged in the last quarter of the twentieth century. Through personal essays, criticism, interviews, testimonials, poetry, and visual art, the collection explores, as coeditor Cherríe Moraga writes, "the complex confluence of identities—race, class, gender, and sexuality—systemic to women of color oppression and liberation."

Reissued here, nearly thirty-five years after its inception, the fourth edition contains an extensive new introduction by Moraga, along with a previously unpublished statement by Gloria Anzaldúa. The new edition also includes visual artists whose work was produced during the same period as Bridge, including Betye Saar, Ana Mendieta, and Yolanda López, as well as current contributor biographies. Bridge continues to reflect an evolving definition of feminism, one that can effectively adapt to, and help inform an understanding of the changing economic and social conditions of women of color in the United States and throughout the world.

"Immense is my admiration for the ongoing dialogue and discourse on feminism, Indigenous feminism, the defining discussions in women of color movements and the broader movement. I have loved this book for thirty years, and am so pleased we have returned with our stories, words, and attributes to the growing and resilient movement." — Winona LaDuke (Anishinaabe), Executive Director, Honor the Earth
Following her internationally bestselling book The Good Women of China, Xinran has written one of the most powerful accounts of the lives of Chinese women. Her searing stories of mothers who have been driven to abandon their daughters or give them up for adoption is a masterful and significant work of literary reportage and oral history.

Xinran has gained entrance to the most pained, secret chambers in the hearts of Chinese mothers—students, successful businesswomen, midwives, peasants—who have given up their daughters. Whether as a consequence of the single-child policy, destructive age-old traditions, or hideous economic necessity, these women had to give up their daughters for adoption; others even had to watch as their baby daughters were taken away at birth and drowned. Xinran beautifully portrays the "extra-birth guerrillas" who travel the roads and the railways, evading the system, trying to hold on to more than one baby; naïve young girl students who have made life-wrecking mistakes; the "pebble mother" on the banks of the Yangzte River still looking into the depths for her stolen daughter; peasant women rejected by their families because they can't produce a male heir; and Little Snow, the orphaned baby fostered by Xinran but confiscated by the state.

For parents of adopted Chinese children and for the children themselves, this is an indispensable, powerful, and intensely moving book. Message from an Unknown Chinese Mother is powered by love and by heartbreak and will stay with readers long after they have turned the final page.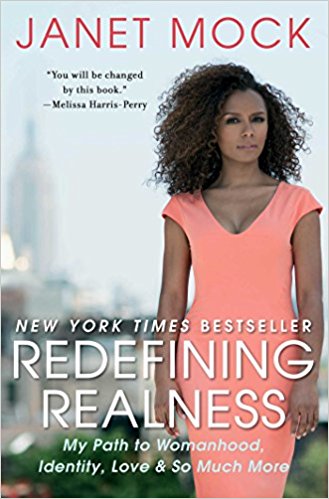 In her profound and courageous New York Times bestseller, Janet Mock establishes herself as a resounding and inspirational voice for the transgender community—and anyone fighting to define themselves on their own terms.

With unflinching honesty and moving prose, Janet Mock relays her experiences of growing up young, multiracial, poor, and trans in America, offering readers accessible language while imparting vital insight about the unique challenges and vulnerabilities of a marginalized and misunderstood population. Though undoubtedly an account of one woman's quest for self at all costs, Redefining Realness is a powerful vision of possibility and self-realization, pushing us all toward greater acceptance of one another—and of ourselves—showing as never before how to be unapologetic and real.
All written synopsis from Amazon.com.