Sisterhood Love: Pa Chia Xiong
Happy International Women's Day!
When my family and I get together, having Pa Chia completes the picture. If she's missing or is off on a traveling adventure, it doesn't feel the same. We would start missing the "Pa Chia Moments" and her innocence. We would also miss having her big camera and photography gears in our way. Pa Chia is child #5 out of 7 children in my family.
I would like you to meet my sister, Pa Chia Xiong, Portrait Photographer and Graphic Designer.
What do you think of when you hear sisterhood? What does sisterhood mean to you?
PA CHIA: When I hear sisterhood, I think of my four sisters and then my golden friends throughout life. Sisterhood to me means having a close-knit of female friends that I can bounce ideas and share experiences with. They keep me grounded and I know I can always fall back on them for any kind of support. They're life partners, I would say, who stays in your life for all events.
"They're life partners, I would say, who stays in your life for all events."
What is the importance of sisterhood for you? How have you benefited from having sisters?
PA CHIA: The importance of sisterhood is to be and feel grounded even in tricky situations. Throughout childhood and adulthood, I've been blessed with generations of different ages of women who are part of my daily life and have advised me in so many ways. I have three older sisters whose horizons expand farther than I will ever know. They've have traveled, taught students, lived at their own free will and that's what I benefited from my older sisters. I want to live just as freely too. They're so wise in their craft that I'm happy I can still connect and draw inspiration from them.
Not only do I have older sisters to look up to, I have one younger sister, sister cousins, and golden friends around my age. How have I benefited from having sisters? By living and sharing LIFE with them. Just staying up late, laughing, and talking for hours on end is a benefit. Even on our worst days.
Greatest memories of you and your sisters? Why?
PA CHIA: All my sisters live far away from each other and we're all on our separate journeys on top of that. However, let's say when ONE of us have a HUGE project to work on, our ideas pour out and there's always an amazing result. It's not one of the greatest memories I have but it's one of the best feelings that repeats over and over again when we come together and freely share our worst, cheesiest, and goofiest ideas.
Nancy, Pagnia, Pader, Pa Kou and Pa Chia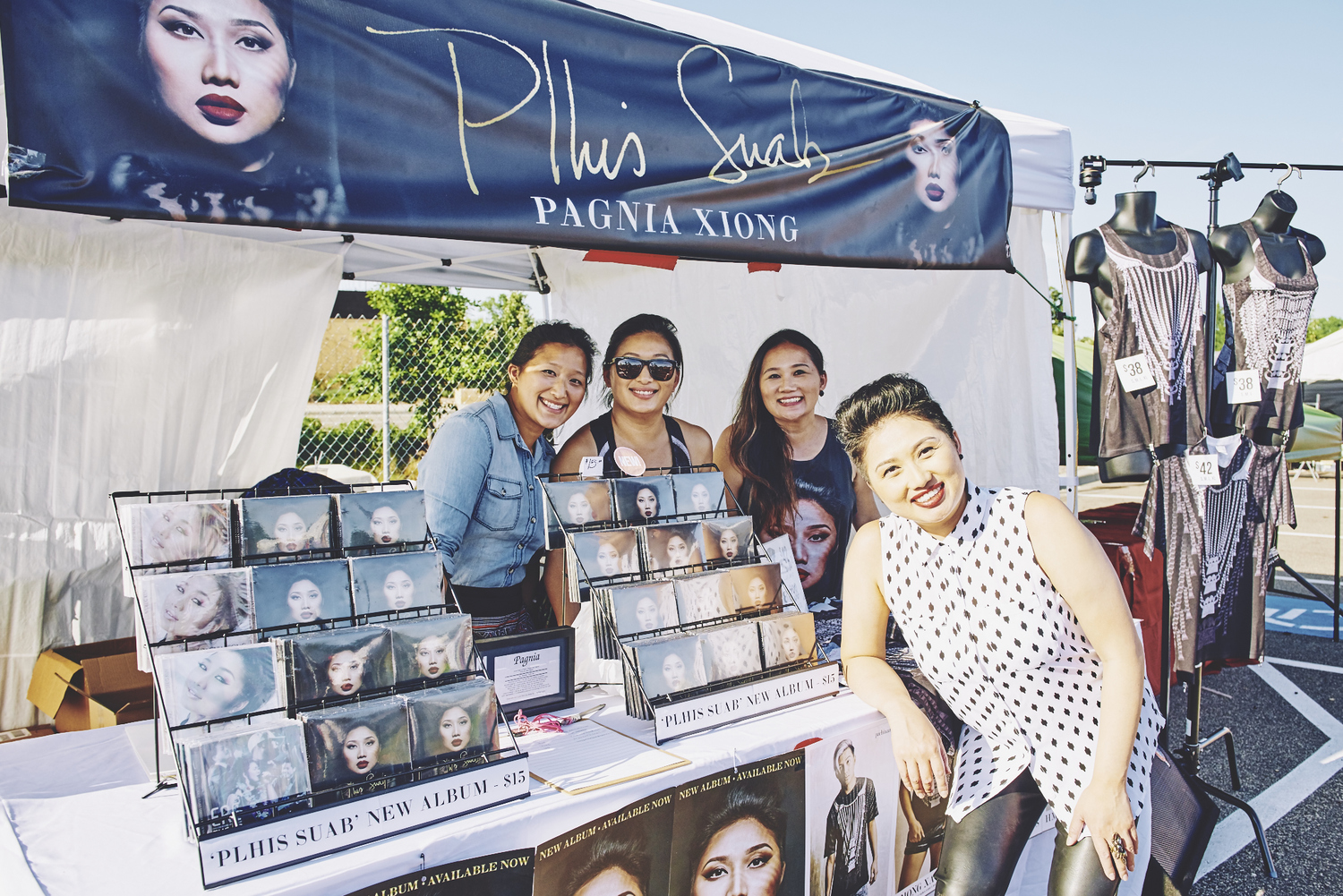 What is your most favorite photo of your sisters? Why?
PA CHIA: It's not my favorite photo but it captures a moment in time when we really stuck together to make things happen. Each year during July 4th, there's always the question if we will see everyone in Minnesota. Some years we do and some years only a few end up arriving into town. However, summer 2016 holds the toughest and most rewarding time we shared together.
Summer of 2016 was the release of my Hmong Xauv tops to the masses at the J4 Hmong Freedom Celebration held in St. Paul, Minnesota. I had worked an entire year beforehand getting everything in motion from designing, production, packaging and this was going to be my first time selling physically to an audience. On top of that, Pagnia was also releasing her latest album, "Plhis Suab" in which (if you read her album) she was the sole producer and art director for her masterpiece. She was her own manager.
That meant, we both needed help as we never hosted our own booth before. We had previous knowledge when it came to selling but this time, we were running the show and was responsible for all the tasks to run smoothly. So with the help of our sisters, we managed to pull off everything. From making sure registration was cleared, marketing online was done, hanging up our posters in the field, getting up at 5 AM, setting up, greeting our customers, sound checking, making personal sales, taking down equipment, and making sure all material was fair. WE DID IT ALL! It was exhausting but I was so proud of myself and my sister team. We all just worked like chess pieces, checking and ticking off every task as if we knew what the next step was. That is why this photo is so important. The support we had during this time was incredible and that's without me and Pagnia forcing our sisters to work for us. Like I mentioned above, we don't live near each other but for our dreams, our sisters willingly took the time off to come days earlier to lend a helping hand.
I hope everyone reading this has a solid group of sisters or support system like I do. Thank you for your time.
What about you? What does sisterhood mean to you? How has sisterhood impacted you? Let me know your thoughts below.